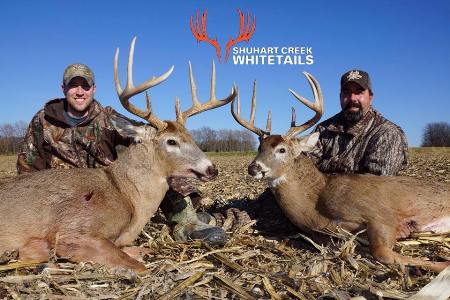 by Admin
What should you bring on your deer or turkey hunt at Shuhart Creek Whitetails? Here are our suggestions on items to pack for your upcoming hunting trip.
First, make sure you have your deer, turkey and hunting licenses. Gun hunters need to have their guns sighted in and extra ammo on hand to verify your gun when you get to camp. It is essential that gun season hunters also bring their required attire of blaze orange vests and hats for hunting, while archery hunters should make sure to pack extra releases, broadheads, and arrows. If you have a doe in heat call or another favorite call, we suggest packing one as it has enhanced our hunting experiences.
Deer hunting in Illinois begins when the temperatures start to vary with the changes in season. The mornings can be very cool in the 20s and 30s, while the afternoon can reach highs in the 60s. Therefore, it is important to watch the weather when packing. Turkey hunting in Illinois is in the spring when temperatures are normally warmer, so lighter clothing is needed than when deer hunting. We suggest packing insect repellant for ticks and rain gear for any hunt at Shuhart Creek Whitetails.
The lodge at Shuhart Creek Whitetails is a full-service lodge for our guests. We have five bedrooms, with all bedding provided, as well as three bathrooms, which include towels. Our lodge gives our guests plenty of space and comfort and even satellite television to enjoy during downtime. Our lodge contains a stove, microwave, two refrigerators, an outdoor gas grill and an outdoor charcoal grill to make mealtime a breeze. In addition, our kitchen is stocked with pots, pans, glasses, dishes and silverware. Make sure to bring items to cook and any personal items you may need during your stay.
Our goal is to continue to provide our guests with a wonderful hunting experience in Hancock County. If you haven't booked your turkey or deer hunt at Shuhart Creek Whitetails, or if you have any questions about planning for your trip, call Rich Burian at 815-483-8729 or email at elkburian@sbcglobal.net. We look forward to seeing you for a hunt!