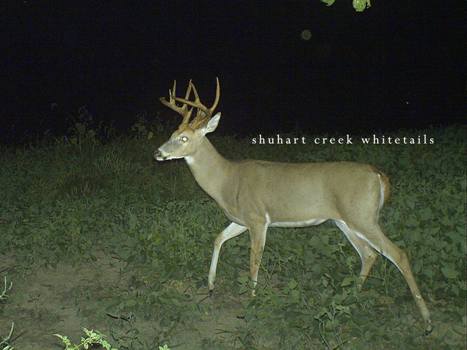 by Christina
While our staff is gearing up for turkey hunts, which kick off in just a few months, now is the time for hunters to begin planning their whitetail hunting trips! Permit sales will be here before you know it, so count on Shuhart Creek to keep you updated on when permits will go on sale, what you'll need to apply and when both gun and archery seasons will take place.
Whether you're visiting from the next county or the other side of the country, the staff at Shuhart Creek can make sure you're prepared for the whitetail hunting trip of a lifetime. Archery hunts tend to fill up fast at Shuhart Creek, so if you're planning to bow hunt this season, be sure to reserve your space now. For those interested in hunting with muzzleloaders or shotguns, we recommend booking your trip now as well, as gun seasons are much shorter and only a limited number of slots are available.
If you're booking your first hunting trip in Illinois, keep in mind that permits are typically available sometime in May. Dates vary each year, but archery season typically begins in early October and runs through early 2016. Shotgun seasons are based around Thanksgiving, while muzzleloader season is typically right after Thanksgiving and again in mid-December.
If you're interested in hunting whitetail deer with Shuhart Creek Whitetails this fall, contact Rich Burian to reserve your spot and ensure that you're notified when permits are available and what the official hunting season dates will be. In addition to keeping you updated on all of the important dates for the 2015 season, he will also provide any unfamiliar hunters with instructions on how to apply for permits. To contact Rich, call 815-483-8729 or email elkburian@sbcglobal.net.
For more information on whitetail deer hunts in Hancock County, visit www.ShuhartCreekWhitetails.com.