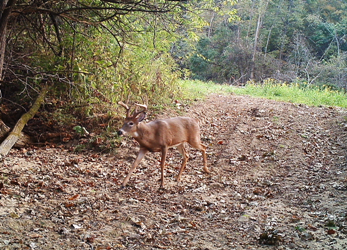 by Christina
If you think you waited too late in the season to book your whitetail hunt, think again! At Shuhart Creek Whitetails, we still have limited availability, meaning you could be part of a hunt this year. Hunting season is in full swing, and we've already seen record-sized big bucks down, so don't delay – book your trip today!
At Shuhart Creek, you'll find 2,500 acres of private land located along the bluffs of the Mississippi River. The diverse habitat offers exciting hunting opportunities for everyone, from first timers to avid lifelong hunters. Hunting lands at Shuhart Creek range from forests with mature hardwoods and white and red oaks; farm fields including soybeans, wheat and corn and harvested food plots covered in clover, oats, sugar beets, turnips, alfalfa and more.
Lodging is available and included in the price of the hunt at Shuhart Creek. The onsite lodge includes five bedrooms and three bathrooms, and it also has a stove, microwave, refrigerator, washer, dryer and cable television. In addition, there is storage available in a walk-in cooler, and Mules are onsite for easy transportation around camp.
Prices range from $1,800 to $2,200 for three- and four-day gun and muzzle loader hunts. In addition to lodging being included, hunts also include primarily ladder stands and lock-on stands. Ground blinds are also available by request.
To check on the limited availability that remains for this hunting season, contact Rich Burian today by calling 815-483-8729 or emailing elkburian@sbcglobal.net. For more information about Shuhart Creek Whitetails, visit www.ShuhartCreekWhitetails.com or follow us on Facebook.